Introducing Our Farmhouse Cross Quilt Kit
We loved this Farmhouse Cross Quilt pattern from QuiltFOX Design so much that we immediately knew we needed to create a Farmhouse Cross Quilt Kit using the same beautiful fabrics that they used. Learn more below. We also offer the pattern by itself and the gorgeous Hoffman Farmhouse Blooms digital prints individually.
Keep up-to-date with all the Creations' news by clicking the green "Join E-Happenings Now!" button to sign up for our email newsletter.
Both our Creations store in Kerrville, Texas and our online store offer a wide variety of products for quilters and sewing enthusiasts. Be sure to visit our Online Catalog page for quick links to our extensive online inventory of fabrics, patterns, books, kits, tools, and supplies for quilting, clothing and purse sewing, hand stitchery, machine embroidery, wool stitchery and even greeting cards! Now is a great time to come to Kerrville and visit in person – check out our Store Tour page which highlights our latest store displays where we feature model garments and quilts made from our latest fabrics and patterns.
Welcome November FabShopHoppers!
You are at the right place to find the November FabShopHop bunny. You'll find her admiring the Hoffman Farmhouse Blooms digital prints below.
Farmhouse Cross Quilt Kit
Our Farmhouse Cross Quilt Kit is based on the stunning Farmhouse Cross quilt pattern created by QuiltFOX design featuring the soft blues and grays of the Hoffman Farmhouse blooms digital prints and the gorgeous floral print in the border.
We liked their fabric choices so much we decided to just kit it as is, with one minor change – we've provided enough border print fabric that you won't have to piece it as specified in the pattern.
The Farmhouse Cross Quilt Kit finishes at 46″ x 60″ and sells for $109.00.
Farmhouse Cross Quilt pattern by QuiltFOX Design
If you love this pattern as much as we do, but already have another set of fabrics in mind, then you'll want to buy this Farmhouse Cross quilt pattern by QuiltFOX design.
We love the way they achieved the watercolor look of the piecing around the cross and the star quilt block in the center of the cross.
The pattern is for a 46″ x 60″ wall hanging.
November FabShopHop bunny
Here she is… the November FabShopHop bunny is mulling over which of these beautiful Hoffman Digital prints she's going to need for her next quilt.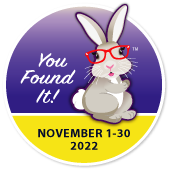 Hoffman Farmhouse Blooms Digital Fabrics
These softly colored Hoffman Farmhouse Blooms fabrics work together wonderfully and we're sure you'll be as impressed as we are with the detail and color achieved in these digitally printed fabrics.
Read More