Looking for the February 2022 FabShopHop bunny?
You'll find the February bunny below – she's learning a bit about Creations history!
Thank You for 44 Fabulous Years!
We opened Creations on February 13, 1978, so this month we celebrate Creations' 44th Anniversary. We have been blessed over the years with wonderful customers and we appreciate every one of you! We also celebrate the incredible staff we've been blessed with over these 44 years! They love to hear about your sewing projects and help you find exactly what you need. (Visit the Meet our Staff page to meet our current staff.)
Over the years, in addition to meeting many wonderful people in our store, we've been delighted to meet new customers at quilt shows and quilting events. For many (MANY) years we transported the Creations' team and products to the International Quilt Festival in Houston, as well as shows in Austin, San Antonio, New Braunfels and Kerrvile. We also were the on-site store for Quilting Adventures retreats in New Braunfels, Texas. We loved meeting the many quilters who visited our booth and attended these retreats and we especially love it when they come to Kerrville to visit us.
Creations is proud to have been featured twice in Quilt Sampler, a semi-annual magazine that highlights favorite quilting stores. We are now excited to announce that we are going to be featured in Quiltfolk magazine in the near future.
Here is just a little of the Creations' history you'll find on our About Us page. For many of our loyal customers, this will be a walk down memory lane.
---
Kathy Thompson opened the original Creations store in February 1978 in downtown Kerrville on Water Street, specializing in fabrics and supplies for clothing sewing with an emphasis on all natural fibers. That was pretty revolutionary in the double-knit era.
In the early 80's we added quilting cottons and, of course, the patterns, books and notions to support quilters. In the mid-80's Kathy was joined in the business by her sister Julie Milam.
From these early beginnings, we were also well known for our love of cats and our famous "Tootie the Fax Cat" ruled the office at this Water Street location.
---
In the early 90's we opened a second store, From Our House to Yours, located in the historic Rawson home, on Main St. built circa 1895.
That store specialized in home decorating – home dec fabrics, new and old quilts – antiques and accessories for the home and garden and was well known for the frozen cappuccino we offered customers.
Our well known cat, Catty Wampus, was the resident kitty greeter at this location – you never knew where you might find her sleeping.
In the mid-90's we were early adopters of using email as a great way to keep our customers informed and that's when we introduced our Creations E-Happenings Newsletter (look for the sign-up button in the side bar or every page). Shortly afterwards, we embraced the web for showcasing some of our most popular products and that has grown to an online store featuring thousands of fabrics, patterns, books, supplies and sewing notions.
---
In January of 2000, we combined our two stores into one at the Main Street location. We did major renovations and remodeling of that historic home to create the beautiful expansive store we now call home.
We continue to love and embrace clothing sewing and quilt making and fill our store with beautiful sample garments and quilts. We continue to carry some home decor fabrics (they are actually great for clothing sewing too). Over the years we've added many gift items (jewelry, purses, scarves, hats and more) as well as supplies for popular creative hobbies like wool stitchery, purse and bag making, hand stitchery, machine embroidery.
We'd love to have you visit our store in person, but you can always use visit our Store Tour page to see a photo tour of Creations.
Our beloved cats, Domino, Patches and Leftie joined us over the years at this location, with Domino being a store greeter and Patches and Leftie overseeing office operations. None of our kitties are still with us, but you can meet all of them on our Meet our Staff page.
---
Oh, here she is – You've found the Februrary 2022 FabShopHop bunny!…
If you are too busy FabShopHop-ping right now to peruse our website and our thousands of online product offerings, be sure to bookmark us and return soon. Thanks for visiting!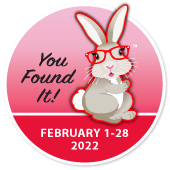 In 2009, we opened our beautiful retreat center, just across the parking lot from Creations. The Main House features a well-lit spacious sewing studio, lodging rooms and and a well-equipped lounge for preparing and serving meals. While we occasionally offer Creations sponsored workshops/retreats, The Main House has become very popular for group rentals for up to 24 guests. It can be rented for a minimum of 3 nights from Wednesday through Sunday. Visit The Main House website for full details.
Both our Creations store in Kerrville, Texas and our online store offer a wide variety of products for quilters and sewing enthusiasts. Be sure to visit our Online Catalog page for quick links to our extensive online inventory of fabrics, patterns, books, kits, tools, and supplies for quilting, clothing and purse sewing, hand stitchery, machine embroidery, wool stitchery and even greeting cards! Summer is a great time to come to Kerrville and visit in person – check out our Store Tour page which highlights our latest store displays where we feature model garments and quilts made from our latest fabrics and patterns.
Keep up-to-date with all the Creations' news by clicking the green "Join E-Happenings Now!" button to sign up for our email newsletter.