Hours of Operation: Tues – Fri: 10:00 – 2:00
We are open for walk-in shopping on Tuesday, Wednesday, Thursday, and Friday from 10 -2 .  The only entry will be thru the lower door facing our parking lot.  MASKS WILL BE REQUIRED FOR ENTRY.  

For your convenience we will continue to offer curbside pick-up. Call 896-8088 to utilize this service.
If you don't already receive our online newsletter, take this opportunity to register. Click the "Join E Happenings" on the top right to keep up with all things Creations. When you receive the confirmation e-mail, be sure and click the "confirm subscription" button in the e-mail. We want you to know about changes we make in our hours of operation as well as the great new stuff we continually receive.
---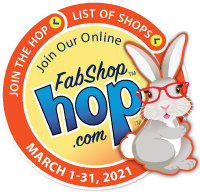 We'll are participating in the fun FabShopHops for March 2021. Click the March FabShopHop.com bunny graphic to find out more and to register.
Where might you find the March FabShopHop bunny? Well, word has it that she is hopping among the Longhorns on our Texas and Western Page.
We Appreciate Our Customers
Although our hours and days are limited, we are so grateful for the support of our customers. It's still amazing to hear the amount of laughter that can come out from behind a mask!
We appreciate those customers who have been able to visit during our shortened hours, and we appreciate those who have shopped with us on line. For those who aren't able to come to the shop, we hope you will continue to enjoy our website. We now have over 5,000 products online. It's never the same as visiting the shop, but sometimes that's as good as it gets.
In 1996, Creations was first featured in Quilt Sampler's second edition. Twenty three years later, we were invited to be their "encore" shop for Spring 2019. It was quite an honor to be featured in this magazine twice.
We so appreciate the support of our customers for all these years as we continue to bring you the best our fabric industry has to offer.
Online Offerings
We offer 100% cotton, quilting-weight fabrics in wide range of contemporary and traditional prints as well as batiks in every imaginable color. Visit our Quilting page to see all of our quilting fabrics, patterns, kits, books and supplies.
We stock linen, Bali rayon, cottons, knits and other great clothing fabrics. We also carry unique sewing materials such as cork & Kraft-Tex. Visit our Sewing page to see our selection of patterns, books, fabrics and supplies for garment and home-dec sewing.
We carry hand-dyed wool from Mary Flannagan, Woolylady, and Primitive Gatherings. We stock Sue Spargo's mill dyed wool. You can see all of these, as well as our patterns, books and supplies for wool projects on our Wool Stuff page.
The popularity of hand stitchery never seems to fade. We've found quite a few pattern designers that know just how to add a modern touch to this classic style. Visit our Hand Stitchery page to see all these patterns, books and supplies.
Embroidery machines have made it easy to stitch colorful, elaborate embroidery designs on everything you can imagine. We highlight some of our favorite designs and embroidery blanks on our Machine Embroidery page.
We have some great bag patterns, booklets, and hardware, including products from By Annie, Atkinson Designs and Aunties Two. You'll find everything you need on our Purses, Bags & Totes page.
The Shannon Martin greeting cards combine funny, vintage photos (in sepia tones) with witty greetings for birthdays, anniversaries, and more. Browse these great cards, as well as Shannon's magnets, notecards and journals on our Shannon Martin page.
In this section of our store, you will find a selection of Creative Grids rulers, rotary cutters, lots of thread, batting and some great notions as well as various interfacings. Just visit our Notions page to look for the tools you might need.
Over the years, Texas (and western) themed merchandise has been very popular with both our in-store and online customers. So, we naturally created a Texas & Western page to highlight these products.
The Main House Retreat Center
Sew, Quilt, Play…
The Main House is the perfect place to gather with your quilting and sewing friends to relax and sew. Visit our The Main House page for more information about our popular retreat center.
Look for details in 2021 on upcoming events and rental availability at The Main House.
Recent Highlights from our Email Newsletter
We email a newsletter to our E-Happenings Newsletter subscribers on a regular basis – often weekly. You can subscribe to our newsletter by clicking the button below or on any page of our website. If you missed a recent newsletter, you can click the links below to see some of the products we recently featured in our newsletter.
Go to our Recent Newsletter Highlights page to see all the highlights at once, or just click any of the links below.